isPasswordOk
Jan 11, 2014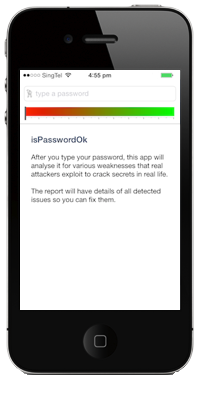 Strong passwords are essentials of our online security. We need to ensure password strength all the time and here is the app for that: isPasswordOk
Turn your iPhone or iPod Touch into your personal password assessment tool.
Use it to check the quality of your passwords. Learn how secure is your password to resist cracking attacks.
Test your passwords right in your palm, without sending them anywhere. At any place, at any time at your convenience.